Distinguished Urological Cancer Surgeon Joins Brown Urology
Nationally renowned practice welcomes Elias Hyams, MD to its team of urologists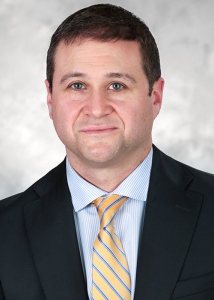 PROVIDENCE, R.I. (February 1, 2021) — Brown Urology is excited to announce Dr. Elias Hyams – a well-regarded expert in the diagnosis and treatment of various urological cancers and other disorders – is now seeing patients at its Collyer Street location in Providence.
"We are honored a urologist with Dr. Hyams credentials has decided to join our growing team of healthcare professionals," said Matt Uustal, Executive Director of Brown Urology. "Not only does he bring extensive experience in the treatment of prostate cancer, but he's also on a mission to revolutionize the diagnosis and screening process to make sure his patients get the care they need."
Dr. Hyams is fellowship-trained in minimally invasive urological surgery. His practice is focused on diagnosis and treatment of prostate cancer, from "risk-based" screening to surgical management to multi-disciplinary care of men at all stages of disease. He performs a high volume of robotic prostatectomy, a minimally invasive procedure that reduces morbidity and hastens recovery following prostate cancer surgery. Dr. Hyams also treats a range of benign and malignant urological conditions with endoscopic, laparoscopic, and robotic procedures.
"I joined Brown Urology to bring cutting edge and compassionate care to men with increased risk of prostate cancer, to use novel tools and shared decision-making to help identify dangerous prostate cancer early and intervene effectively while avoiding over-testing and over-treating those with lower risk," Dr. Hyams said. "I look forward to working with the multi-disciplinary team at the Cancer Center and within the Urology Department to keep men living longer and better."
Dr. Hyams comes to Brown Urology from Columbia University-Irving Medical Center where he was Associate Professor of Urology. While in New York, he was also the chief of urology at New York Presbyterian-Lawrence Hospital.
Dr. Hyams is a graduate of Yale University and earned his MD from the University of Pennsylvania School of Medicine in Philadelphia. He completed his urology residency at New York University – Langone Medical Center and subspecialty training in Endourology at The James Buchanan Brady Urological Institute at Johns Hopkins in Baltimore.
Dr. Hyams lives in Barrington, RI with his wife Kathryn and their three children.